SpeedTalk Mobile's Terms And Conditions offers the most competitive subscription wireless service. Renewable prepaid plans for cell phones, smartwatches, GPS trackers, and more. No contract, no credit checks, and 100% money-back guaranteed. 
SpeedTalk Mobile™  offers its services through subscription plans for our 30- 60- and 90-day plans, which auto-renew every 30 or 60 or 90 days respectively based on the chosen plan duration. Service begins as soon as you activate your service. You will be charged the rate stated at the time of purchase, every month, six days prior to your anniversary date. Your payment card on file will be charged for the current month service and your account will be updated until you cancel. There is no contract and cancellations can be made any time by contacting customer support.

SpeedTalk Mobile™ offers its TRUE PREPAID Plans that will auto renew with the same plan when any of the allotted service is consumed
 

All sales are final after 14 days of your first month plan cycle or after consuming 30 minutes, 30 text, or 30MB of data of the said plan. SpeedTalk Mobile™ will not issue any refunds or allow any transfers of funds, including any portion of unused funds on an account. SpeedTalk Mobile™ reserves the right to refuse service at any time, to anyone, for any reason.

In this offering, you will receive a SIM card and an instructional flyer. SpeedTalk Mobile™ plans can be activated on the national wireless networks on which SpeedTalk Mobile™ provides service to as long as the device is compatible with that network. SpeedTalk Mobile™ utilizes the best networks in America for talk, text, and data service. Please review the coverage map to ensure that you reside in an area where service is provided on your device. You likely do, but you will want to verify before completing your purchase.

Please Note: 2G & 3G services might not be available in all areas due to carrier decommissioning/shutdown of these frequencies. SpeedTalk Mobile™ recommends using 5G, 4G LTE or newer devices for better service.
Existing SpeedTalk Mobile customers who are using the service on their 2G or 3G device, can continue to purchase SpeedTalk products to refill/re-up their existing accounts.
All Devices must support VoLTE.
IoT SIM card: APN is mobilenet (no username no password)
PayGo SIM card: APN is wholesale(no username no password)
Top Value SIM card: APN is mnet (no username no password)
All of our SIM cards supports 2 MCC and MNC:
MCC: 310 MNC: 260
MCC: 310 MNC: 240

When you are running low on credits, a notification message and an email will be sent to you. You will also receive a notification that your service will expire on the last day of your service term. You will be notified to refill your account with additional service(s) should you exhaust any allotment for either voice or text, or when your service term expires.

You must utilize a compatible device in order to use SpeedTalk Mobile™. Any device that is currently active under a contract, has been suspended for non-payment, or reported lost or stolen may be ineligible for use with this service. Additional exclusions may apply. 3G devices will not work as of end of June 2022, we recommend upgrading your device to 5G or 4G LTE device with VoLTE capability.

We do not ship items outside of the USA or to Freight Forwarders. Service plans that are sold to Freight Forwarders will be canceled and refunded

Copyright and Trademark Notice
Unless otherwise specified, all materials appearing on this site, including the text, site design, logos, graphics, icons, and images, as well as the selection, assembly and arrangement thereof, are the sole property of SpeedTalk Mobile™, ALL RIGHTS RESERVED. You may use the content of this site only for the purpose of shopping on this site or placing an order on this site and for no other purpose. No materials from this site may be copied, reproduced, modified, republished, uploaded, posted, transmitted, or distributed in any form or by any means without our prior written permission. All rights not expressly granted herein are reserved. Any unauthorized use of the materials appearing on this site may violate copyright, trademark and other applicable laws and could result in criminal or civil penalties. Icons by Creative Commons CCBY.

Credit Cards
We accept the following credit cards: Visa and MasterCard. Please be sure to provide your exact billing address and telephone number (i.e. the address and phone number your credit card bank has on file for you). Incorrect information will cause a delay in processing your order.

Indemnification
YOU AGREE TO DEFEND, INDEMNIFY, AND HOLD US, OUR AFFILIATES AND AGENTS AND ANY OTHER SERVICE PROVIDER, HARMLESS FROM CLAIMS OR DAMAGES RELATING TO THIS AGREEMENT OR YOUR PROMISES OR STATEMENTS MADE IN IT AND USE OF THE DEVICE OR SERVICE UNLESS DUE TO OUR SOLE AND GROSS NEGLIGENCE. YOU ALSO AGREE TO PAY OUR REASONABLE ATTORNEYS' AND EXPERT WITNESS FEES AND COSTS INCURRED IN ENFORCING THIS AGREEMENT THROUGH APPEAL EXCEPT AS PROVIDED IN PARAGRAPH 5, BELOW. USE OF YOUR DEVICE WHILE OPERATING A MOTOR VEHICLE OR IN ANOTHER DISTRACTED OR NEGLIGENT MANNER MAY BE PROHIBITED, OR RESTRICTED BY LAW IN SOME AREAS. IT IS YOUR RESPONSIBILITY TO CONFORM TO ALL SUCH LAWS OR REGULATIONS AND YOU SHALL INDEMNIFY US FROM CLAIMS ARISING FROM ANY SUCH UNLAWFUL OR NEGLIGENT USE. THIS PARAGRAPH SHALL SURVIVE TERMINATION OF THIS AGREEMENT.

Limitation of Liability
WE ARE NOT LIABLE FOR ACTS OR OMISSIONS OF ANOTHER SERVICE PROVIDER OR ANY THIRD PARTY PROVIDERS OF SERVICES RELATED TO USE OF THE DEVICE OR SERVICE, FOR INFORMATION PROVIDED THROUGH YOUR DEVICE, LACK OF PRIVACY OR SECURITY EXPERIENCED WHEN USING THE DEVICE, EQUIPMENT FAILURE OR MODIFICATION, OR OTHER CAUSES BEYOND OUR REASONABLE CONTROL, INCLUDING WITHOUT LIMITATION ANY REPRESENTATIONS THAT THE SERVICES WILL BE ERROR-FREE, UNINTERRUPTED, OR FREE FROM UNAUTHORIZED ACCESS (INCLUDING THIRD PARTY HACKERS OR DENIAL OF SERVICE ATTACKS). WE ARE NOT LIABLE FOR SERVICE OUTAGES, NOR FOR SERVICE LIMITATIONS OR INTERRUPTIONS, AS DESCRIBED IN PARAGRAPH 1.C ABOVE. OUR LIABILITY AND THE LIABILITY OF ANY UNDERLYING CARRIER FOR ANY FAILURE OR MISTAKE SHALL IN NO EVENT EXCEED OUR SERVICE CHARGES DURING THE AFFECTED PERIOD. SpeedTalk Mobile™, AND ANY UNDERLYING CARRIER ARE NOT LIABLE FOR ANY INCIDENTAL, PUNITIVE OR CONSEQUENTIAL DAMAGES SUCH AS LOST PROFITS. YOU AND WE BOTH WAIVE TO THE FULLEST EXTENT ALLOWED BY LAW, ANY CLAIMS TO RECOVER INCIDENTAL, PUNITIVE AND CONSEQUENTIAL DAMAGES. WE AND ANY UNDERLYING CARRIER ARE NOT LIABLE FOR (i) ECONOMIC LOSS OR INJURIES TO PERSONS OR PROPERTY ARISING FROM USE OF THE SERVICE, THE DEVICE OR ANY EQUIPMENT USED IN CONNECTION WITH THE DEVICE UNLESS CAUSED BY OUR SOLE AND GROSS NEGLIGENCE, OR (ii) THE INSTALLATION OR REPAIR OF THE DEVICE BY ANY PARTIES WHO ARE NOT OUR EMPLOYEES. THIS PARAGRAPH SHALL SURVIVE TERMINATION OF THIS AGREEMENT.


Rewards
Please note that a reward given upon activation is considered a "Spiff" according to our policy, and isn't something we offer. "Commission" is a reward we offer on the 2nd refills and forward.

Links
This site may contain links to other sites on the Internet that are owned and operated by third parties. You acknowledge that we're not responsible for the operation of our content located on or through any such site.

Coverage
Please check our 4G/ 5G coverage map, which approximates our anticipated coverage area. Your experience on our network may vary and change without notice depending on a variety of factors of the network. You agree that we are not liable for problems relating to service availability or quality.

Multiple Product Orders
For a multiple product order, we will make every attempt to ship all products contained in the order at the same time. Products that are unavailable at the time of shipping will be shipped as they become available unless you inform us otherwise.

No Warranties
WE MAKE NO EXPRESS WARRANTY REGARDING THE SERVICE OR THE DEVICE OR ANY SERVICES PROVIDED BY ANY THIRD PARTIES AND DISCLAIM ANY IMPLIED WARRANTY, INCLUDING ANY WARRANTY OF MERCHANTABILITY OR FITNESS FOR A PARTICULAR PURPOSE. WE DO NOT AUTHORIZE ANYONE TO MAKE ANY WARRANTY ON OUR BEHALF AND YOU SHOULD NOT RELY ON ANY SUCH STATEMENT. WE ARE NOT THE MANUFACTURER OF THE DEVICE AND ANY STATEMENT REGARDING IT SHOULD NOT BE INTERPRETED AS A WARRANTY. THIS PARAGRAPH SHALL SURVIVE TERMINATION OF THIS AGREEMENT.

Notices
We may send you notice by mail or electronic means, in our sole discretion. Notices to you shall be effective 1) 3 days following the date deposited in the U.S. Mail or delivered to a nationally recognized courier or delivery service, postage prepaid and addressed to your address as kept in our files and/or 2) immediately upon our transmission using an electronic means such as e-mail or text messaging service. You are responsible for notifying us of any changes in your mailing or e-mail address. Written notice to us shall be effective when directed to our Customer Care Department (at the mailing address listed on our website) and received by us. Oral and electronic notices shall be deemed effective on the date reflected in our records. Your notice must contain specific information adequate to identify you and your Service.

We may disclose, without your consent, the approximate location of a wireless device to a governmental entity or law enforcement authority when we are served with lawful process or reasonably believe there is an emergency involving risk of death or serious physical harm.

Order Acceptance Policy
Your receipt of an electronic or another form of order confirmation does not signify our acceptance of your order, nor does it constitute confirmation of our offer to sell. SpeedTalk Mobile™ reserves the right at any time after receipt of your order to accept or decline your order for any reason or to supply less than the quantity you ordered of any item.

Other Conditions
These conditions will supersede any terms and/or conditions you include with any purchase order, regardless of whether SpeedTalk Mobile™ signs them or not. We reserve the right to make changes to this site and these Conditions at any time.
Promotional prices are good for new activation customers only. The actual service value of the listed plan will be charged thereafter upon renewal of service.

Out-of-Stock Products
We will ship your product as it becomes available. Usually, products ship the same day if ordered by 2:00 PM, or by the next business day if your order is received after this time and for orders received on Saturday, Sunday or any major holiday. However, there may be times when the product you have ordered is out-of-stock which will delay fulfilling your order. Before we ship your order, we will inform you of any products that you have ordered that are out-of-stock and unavailable for immediate shipment. You may cancel your order at any time prior to shipping. Certain plans might be available for a promotional period only and will be out of stock and no longer offered or allowed to be activated at SpeedTalk Mobile™ discretion without notice, such plans can be refunded if purchased within less than 14-days. The date on the SIM card reflects the SIM card validity for activation and not the validity of the plan.

Privacy
We keep your personal information private and secure. When you make a purchase from our site, you provide your name, email address, credit card information, address, phone number, and a password. We use this information to process your orders, to keep you updated on your orders, and to personalize your shopping experience. Our secure servers protect your information using advanced encryption techniques and firewall technology. To keep you informed about our latest offers, we may notify you of current promotions, specials, and new additions to the SpeedTalk Mobile™ site. You may unsubscribe from our newsletters by following the unsubscribe instructions in any email you receive from us. When entering any of our contests or prize drawings, you provide your name, email address, and mailing address. If you win, we will send the prize to the address entered and notify you by email. When you enter a contest or drawing you are also included in our newsletter list to receive notice of promotions, specials, and new additions to the SpeedTalk Mobile™ site. You may unsubscribe from this news list by following the unsubscribe instructions in any email received. We use "cookies" to keep track of your current shopping session to personalize your experience and so that you may retrieve your shopping cart at any time.

Privacy on Other Web Sites
Other sites accessible through our site have their own privacy policies and data collection practices. Please consult each site's privacy policy. Our Store is not responsible for the actions of third parties.

Returns
We will gladly accept the return of products that are defective due to defects in manufacturing and/or workmanship for 30 days from the date of purchase. Fulfillment mistakes that we make resulting in the shipment of incorrect product to you will also be accepted for return 30 days from the date of purchase.

Cancellations / Refunds
We want you to be delighted with your purchase of this subscription and prepaid service. If you are not satisfied with your service and it is within 14 days of receiving your starter kit, we will refund your purchase in full.
However, if you do not contact us within this 14 day period, or if you have consumed more than 30 minutes, 30 texts, or 30MB of data within the said period, you will no longer be eligible for a refund.
If you transfer/port out your number to another carrier, you must have an active account with SpeedTalk Mobile. In addition in order to maintain our porting system, $10 service fee is required if you port out your number before 90-days from first activating the service. Your Service will be deactivated with us once the NSP (New Service Provider) successfully ports your number."

Shipping Policy
Shipping Time – Most orders received before 2:00 PM will ship the same day, provided the product ordered is in stock. Most orders received after 2:00 PM will ship the next business day. Orders are not processed or shipped on Saturday or Sunday, except by prior arrangement. We cannot guarantee when an order will arrive. Consider any shipping or transit time offered to you by SpeedTalk Mobile™ or other parties only as an estimate. We encourage you to order in a timely fashion to avoid delays caused by shipping or product availability.

Taxes
SpeedTalk Mobile™ shall automatically charge and withhold the applicable sales tax for orders to be delivered to addresses within the same state. For orders shipped to other states, you are solely responsible for all sales taxes or other taxes.

Typographical Errors
In the event a product is listed at an incorrect price due to typographical error or error in pricing information received from our suppliers, SpeedTalk Mobile™ shall have the right to refuse or cancel any orders placed for product listed at the incorrect price. SpeedTalk Mobile™  shall have the right to refuse or cancel any such orders whether or not the order has been confirmed and your credit card charged. If your credit card has already been charged for the purchase and your order is canceled, SpeedTalk Mobile™ shall immediately issue a credit to your credit card account in the amount of the incorrect price.

Plan Cycle
SpeedTalk Mobile™ Plans are 30-day plans, that is what we refer to in some listings as "monthly" or "per month".

Rollover Plans
Rollover Plans lets you rollover any unused plan minutes, text or data to the next cycle of the same plan. Customers can keep (rollover) their remaining balance if they refill their account before their current plan expires. If customer do not refill before the expiration date, their remaining balance will be removed from their account. We rollover 2 refill balances, any old balance will be removed.

Usage
Customers will be charged for incoming and outgoing services used.
We utilize T-Mobile (GSM-T) network in our service and coverage, and we receive the usage records from their network switches directly. With that being said, the customer may be charged for unanswered calls that are forwarded to voicemail regardless of whether the calls result in an actual voicemail message being left for the customer and regardless of whether the customer's service is on or off.
Airtime usage is measured from the time the network begins to process a call (before the phone rings or the call is answered) through its termination of the call (after you hang up). For voice calls, we round up any fraction of a minute to the next full minute. You may be charged for more than one call/message when you use certain features resulting in multiple inbound or outbound calls/messages (such as call forwarding, call waiting, voicemail, conference calling, and multi-party messaging). You will be charged for text, instant or picture messages, and email whether read or unread, sent or received, solicited or unsolicited. Shortcode messages are not supported on our network.

Data Service and Unlimited Data Services
UNLIMITED DOES NOT MEAN UNREASONABLE USE. UNLIMITED Data services are provided solely for personal, non-commercial access to the Internet for purposes of web browsing, messaging, and similar data activities as your authorized device's native applications and capabilities permit. To ensure that all customers have access to reliable services provided at a reasonable cost, you may not use our service in a manner that interferes with another SpeedTalk Mobile™ customer's use of our service or that disproportionately impacts SpeedTalk Mobile™ network or resources. SpeedTalk Mobile™ reserves the right, without notice or limitation, to place you on a different service plan with no unlimited usage components, to limit data throughput speeds or quantities, or to deny, terminate, end, modify, disconnect or suspend your service, or decline to renew your service, if you engage in any of the prohibited uses detailed herein or if SpeedTalk Mobile™, in our sole discretion, determines that action is necessary to protect our wireless service or resources from harm or degradation, or that your usage disproportionately impacts SpeedTalk Mobile™ network or resources. You may not use our data service: (1) with server devices or host computer applications or other systems that drive continuous heavy traffic or data sessions, including, but not limited to, disproportionate web camera posts or broadcasts, automatic data feeds, automated machine-to-machine connections, peer-to-peer (P2P) file-sharing applications broadcast to multiple servers or recipients such that they could enable "bots" or similar routines; (2) as a substitute or backup for private lines or frame relay connections; (3) to send or receive unusually high numbers of messages; (4) to engage in atypical web usage behaviors; (5) for any activity that adversely affects the ability of other people or systems to use either our wireless services or other parties' Internet-based resources; and (6) for any other reason that, in our sole discretion, harms our network or disproportionately impacts SpeedTalk Mobile™ network or resources. 7000 MB for unlimited data plans.
Data speed may vary depending on the plan selected, device compatibility, and service availability. Some plans offer data speed at 64 kbps, or 128kbps or higher. If you want faster speed, you can select higher plans.

Unlimited SMS Services
UNLIMITED DOES NOT MEAN UNREASONABLE USE. UNLIMITED text services are provided solely for live messaging purposes between two individuals for personal use only. UNLIMITED text services may not be used for Business, Enterprise, Commercial use, Premium SMS which utilizes shortcodes, SMS chat programs, monitoring services, data transmissions, or other connections that do not consist of uninterrupted live messaging purposes between two individuals for personal use. If SpeedTalk Mobile™ finds that you are using an UNLIMITED text service offering for anything other than live messaging purposes between two individuals for personal, SpeedTalk Mobile™ may at its option terminate your service or change your plan to one with no UNLIMITED usage components. SpeedTalk Mobile™ will provide notice that it intends to take any of the above actions, and you may terminate the service with SpeedTalk Mobile™. Text messages are limited to 160 characters per message. Premium text messages are NOT permitted under UNLIMITED Text Services. SpeedTalk Mobile™ UNLIMITED currently supports international text messaging. SpeedTalk Mobile™ does not guarantee delivery of messages and reserves the right to change this offer as needed without notification. Text messages, including downloaded content, not delivered within 7 days will be deleted. SpeedTalk Mobile™ reserves the right to change this delivery period as needed without notification. You are charged for each part of the messages that are delivered to you in multiple parts. When a single message is sent to multiple recipients, the sender is charged for one message for each recipient, and each recipient is charged for the message received. 5000 text for unlimited text plans.

Unlimited Usage
You agree that the SpeedTalk Mobile™ Monthly plans are to be used for voice and SMS messaging only between two individuals for personal use only. You agree that the service is not to be used for any type of Business, Enterprise, Commercial use, monitoring service, data transmission, the transmission of recorded material or broadcasts, call forwarding, conference calling, or other use that does not consist of uninterrupted live voice or SMS messaging between two individuals for personal use only. SpeedTalk Mobile™ may terminate or suspend service or change your plan to one that does not offer unlimited service if SpeedTalk Mobile™ determines that you are using the unlimited service offer in an unauthorized manner as described in this section. SpeedTalk Mobile™ will make the best efforts to give prior notice before taking any above action and you may terminate the unlimited service.
You agree that you should adhere to SpeedTalk Mobile™  terms of usage, subscribers who violates the terms of usage such as (a) excessive spamming, (b) abnormal usage with traffic pumping, (c) engage in telemarketing, (d) using the service in automated text or picture messaging to another mobile device or email address, (e) use in "spam" or engage in other abusive or unsolicited communications, or any other mass, automated voice or SMS (text messaging) or MMS (picture messaging) or data communications for commercial or marketing purposes, (f) engage in any other activity that would be inconsistent with reasonable personal use patterns, causes network congestion or jeopardizes the integrity of SpeedTalk Mobile™ 's supplier's network, (g) upload, download or stream continuous video or audio. We will consider your use of our SpeedTalk Mobile™  Plans to be "unreasonable" or "abusive" and therefore subject to immediate termination without prior notice.

Unlimited Voice Services
UNLIMITED Voice Services. UNLIMITED DOES NOT MEAN UNREASONABLE USE. UNLIMITED voice services are provided solely for live dialog between two individuals for personal use only. UNLIMITED voice services may not be used for Business, Enterprise, Commercial use, conference calling, 3-way calling, call forwarding, monitoring services, data transmissions, the transmission of broadcasts, the transmission of recorded material, or other connections that do not consist of uninterrupted live dialog between two individuals for personal use. If SpeedTalk Mobile™ finds that you are using an UNLIMITED voice service offering for anything other than live dialog between two individuals for personal use, SpeedTalk Mobile™ may, at its option, terminate your service or change your plan to one with no UNLIMITED usage components. SpeedTalk Mobile™ will NOT provide notice that it intends to take any of the above actions, and you may terminate the agreement. 3500-minute voice for the unlimited voice plans.

Online Advertising We Use
We use Google AdWords Remarketing to advertise SpeedTalk Mobile™ across the Internet. AdWords remarketing will display relevant ads tailored to you based on what parts of the SpeedTalk Mobile™ website you have viewed by placing a cookie on your machine. THIS COOKIE DOES NOT IN ANYWAY IDENTIFY YOU OR GIVE ACCESS TO YOUR COMPUTER The cookie is used to say, "This person visited this page, so show them ads relating to that page." Google AdWords Remarketing allows us to tailor our marketing to better suit your needs and only display ads that are relevant to you. You can opt-out of interest-based ads by Google through Ads Settings. To do so, please follow this link. When you opt-out, you'll still see ads, but they may not be related to factors such as your interests, previous visits to other websites, or demographic details.

Miscellaneous
Please visit this page periodically to see the most current Terms and Conditions as we may change the term of use without advance notice.
Customer support: 1-866-701-5577
Flexible Wireless Plans For Everyone. Pick The right Plan For Your Devices
Save more on the nations largest, most dependable, 5G / 4G LTE networks, without a contract. Plus, receive even greater value when you sign up to one of these monthly unlimited value plans. Perfect for iOS And Android and the whole family!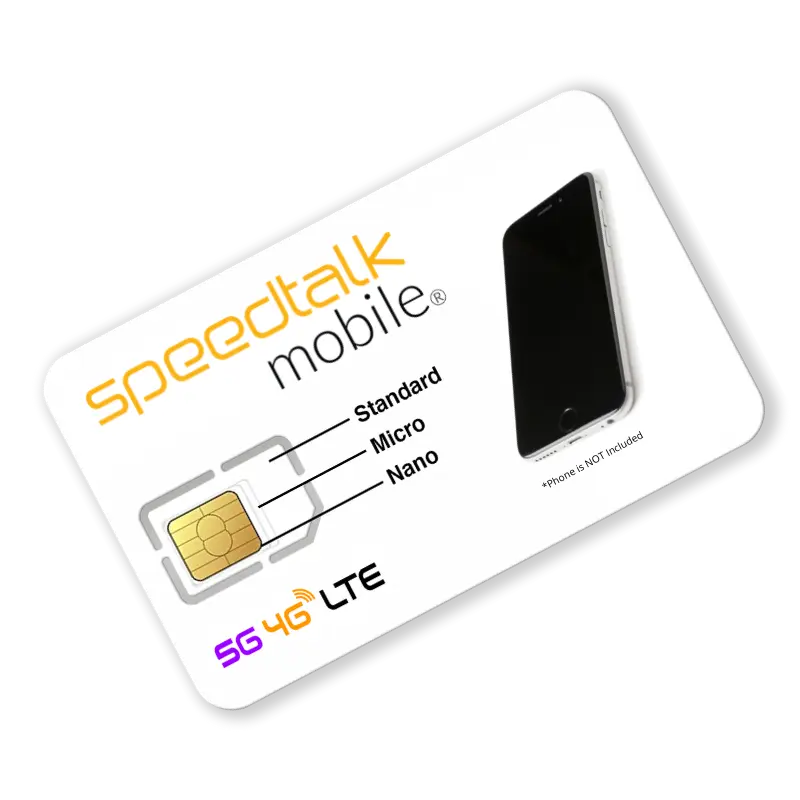 Premium wireless, for a whole lot less!
SpeedTalk offers the most competitive subscription wireless service. Renewable prepaid plans for cell phones, smartwatches, GPS trackers, and more. No contract, no credit checks, and 100% money-back guaranteed. 
Coverage You Can Count On
Check the coverage in your area