Frequently Asked questions
"Pay As You Go Plans"
No contracts!
No Credit Checks!
No commitments!
Get the same Pay As You Go Plan service at a fraction of the cost with no contract smartphone & cell phone plans on the nations fastest 5G/4G LTE network for hundreds per year in savings on your wireless plan.
FREQUENTLY ASKED PAY AS YOU GO PLAN QUESTIONS
5G and/or 4G LTE access requires a capable device and SIM within an appropriate coverage area. 5G capability included at no extra cost. Actual availability, speed, and coverage may vary.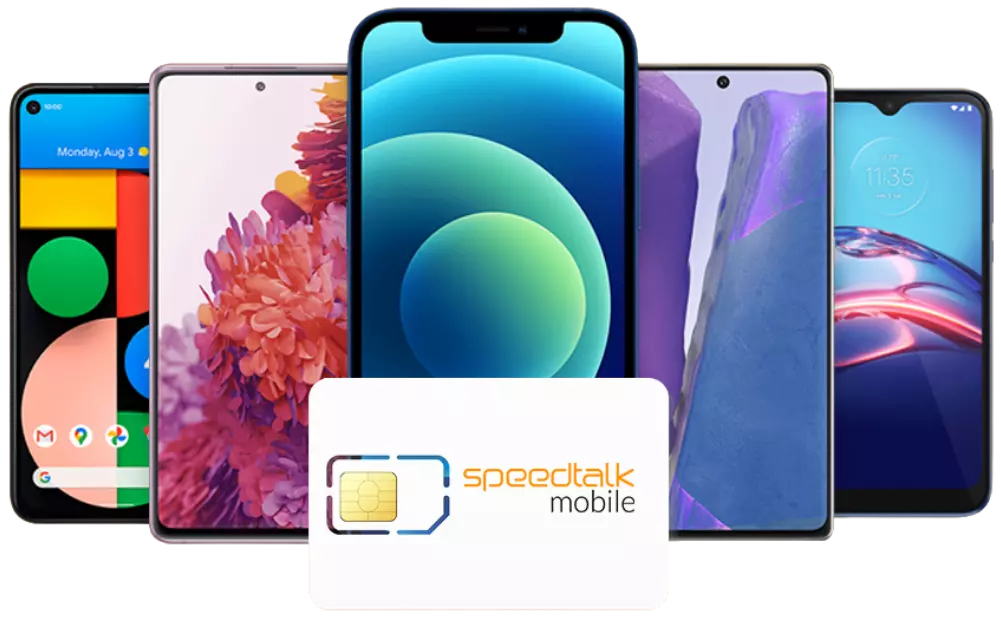 Bring Your Device To SpeedTalk Mobile!
Save Money By Keeping Your Device.

No Carrier Commitments or Contracts

Keep Your Number Or Get A New One.
A Pay As You Go Plan service is one that you pay for upfront when you purchase a SIM Starter Kit or a recharge.
You pay a certain amount of money before you start using the service, which is converted into mobile credit used for:
Making calls
Sending text messages
Using mobile data
The amount of credit available for each usage type above will depend on your phone plan, and the amount you recharge.
The credit will expire after a set amount of time, for example 30 days – this is dependent on your plan that you picked and recharge settings.  This means you can budget your usage accordingly depending on your needs each month instead of paying a recurring monthly subscription fee with a regular cell phone plan. Meet the smarter wireless plan and start saving today!
Pay As You Go Plan services on the nations largest, and most dependable 5G & 4G LTE networks, without a contract. Plus, receive even greater value when you sign up to one of these monthly unlimited value plans. Perfect for kids, seniors, and the whole family!
Use less? Pay less! SpeedTalk Mobile's smarter than unlimited, Pay As You Go Plans offer the lowest, most affordable, rates. How you use your phone determines what you pay. If you go beyond your chosen plan level, no worries, mobile cell Phone plans will auto renew with the same plan when any of the allotted service is consumed.! Use your own device – activate any unlocked phone within minutes. Apple iPhone, Android, Windows, any compatible GSM cell phones, or any other compatible devices.
Members must add a valid payment method to their account to continue service after the initial planned month has been used. This product can only be used to cover one planned month of service and cannot be converted to monetary value for purchasing products or services from SpeedTalk Mobile
Pay As You Go Plans allow the freedom and flexibility in the way you use your mobile cell phone. Once your recharge expires, you don't have to top up immediately, only when you need to use the phone again.
They're best suited to customers looking for a non-contract option.
Mobile Cell Phone Wireless Plans offer unlimited talk, text and data for a fixed monthly fee. These plans are perfect for individuals who need high-speed data access without worry of exceeding their monthly cap. SpeedTalk is the most competitive subscription wireless service. Renewable mobile phone plans for cell phones, smartwatches, GPS trackers, and more. No contract, No credit checks, and 100% money-back guaranteed.
Coverage You Can Count On
Check the coverage in your area
Why Use SpeedTalk Mobile's Pay As You Go Plans