Best Phone Plans For Kids
Find the best unlimited data plan for your smartphone right now
Even if you want to keep your monthly expenses low, you can still get the best unlimited data plan. That wasn't always the case, as unlimited data plans were once among the most expensive options available, but options are more plentiful these days at many of the best phone carriers.
Yes, unlimited data plans can still be expensive, especially if you get your service from a major carrier and choose one of their perk-heavy plans. However, the best unlimited data plans are less expensive while still providing benefits such as free streaming services and hotspot data. If you give up those benefits, you can get unlimited data for even less. You can find unlimited data among the best cheap cell phone plans for kids if you look beyond the Big Three carriers, with SpeedTalk Mobile now offering unlimited talk and text for less than $7.50 per month.
It's useful to know what the best unlimited data plans are right now, because carriers frequently require you to sign up for one of their plans in order to take advantage of their best phone deals. Even if you don't need a phone right now, reviewing all of SpeedTalk Mobile's available plans may reveal a better plan than the one you currently have.
By researching the various options for best unlimited plans, you may find a new plan with better perks than the one you currently have, such as hotspot data, the ability to use your plan when traveling from state to state with Nation wide coverage and HD video streaming to go along with the unlimited talk, text, and data. Top-tier unlimited plans also include 4G LTE and 5G coverage, which is essential if you own one of the best 5G phones.
SpeedTalk Mobile is the carrier to choose if you don't want to pay a lot of money for a lot of data. Unlimited data is especially appealing, as plans start at just $7.50 per month. Unlike other mobile carriers, there are no contracts, no introductory offers for the first three months of service, and after that, you must sign up for a full year to keep that monthly rate. Our Unlimited plans are the price you pay. You can cancel or upgrade at any time. You get 4G LTE / 5G access with nationwide coverage for the price of the plan you select.
Aside from selecting a carrier that provides good service in your area — see our guide to the fastest wireless networks and ask friends and family about coverage — consider both price and perks. Choose the best unlimited data plans from major carriers ranging in price from $60 to $90 per month, or go with a discount carrier like SpeedTalk Mobile. Consider the benefits that each wireless plan offers with their various tiers of unlimited data.
Are you unsure whether you require unlimited data? Unless you regularly stream video and music, you can probably get by with a tiered data plan, such as those offered by AT&T and Verizon. However, on a monthly basis, it will cost you more.
The short answer is "yes," but there is a caveat. Many unlimited phone plans include a set amount of high-speed data that you can use (often referred to as a "premium" data allowance). This means that you'll get the fastest speeds your carrier offers up until that cap, after which you could potentially be slowed down during peak usage times (like in the morning or right after work). After that, you can continue to use your plan's data as much as you want, which is why your plan is technically unlimited—but you won't get those high speeds until the following month.
The long answer is maybe. It really depends. While all of these plans technically provide unlimited data, many of them will impose a restriction somewhere in the plan to limit you slightly.
Unlimited Starter customers may be throttled at any time. Unlimited Elite customers, on the other hand, no longer have to worry about caps. Do More, Play More, and Get More customers can have their data slowed after 50GB. 
There may also be restrictions on the video quality you can stream — some plans limit video streaming to 480p, requiring you to pay more for HD video streaming. Many plans also impose hotspot data limits, allowing only a limited amount of high-speed hotspot data. This isn't nearly as serious as it appears. Hotspotting is simply an added benefit for the average person, and being limited on it won't cost you much.
If you are looking to spend the day surfing, streaming, browsing, and playing? Then you'll want a plan with unlimited data! An unlimited cell phone plan allows you to ensure that your entire family has enough data to enjoy all of their favorite activities… without having to worry about pesky (and expensive) overage charges.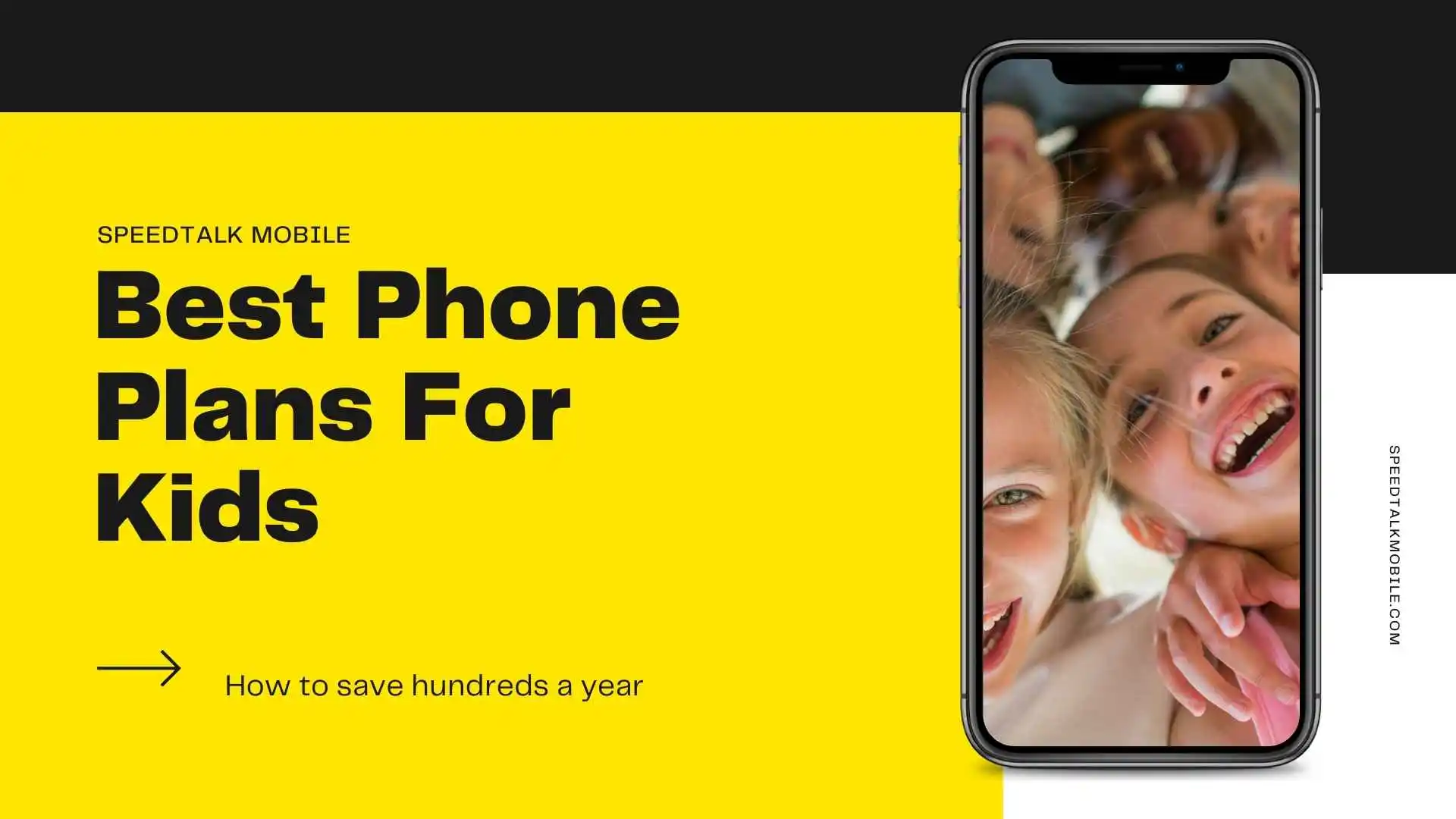 Unlimited data plans are now the most popular option from both large and small carriers, but not all unlimited data plans are created equal. Postpaid and prepaid unlimited data plans are available. Let's look at the differences between unlimited data plans.
Postpaid unlimited data plans are billed on a monthly basis. While these plans are typically more expensive than prepaid unlimited data plans, they typically include a plethora of international and entertainment perks such as Netflix, Hulu, and other subscriptions. No, we don't! We only offer True Unlimited Kids Phone Plans with no fluff. There are no gimmicks or tricks.
Prepaid carriers with great deals on unlimited data plans dominate the MVNO market. Prepaid carriers include well-known brands such as Metro by T-Mobile and Cricket, as well as lesser-known brands such as SpeedTalk Mobile and US Mobile. Before automatically signing up for an unlimited data plan from Verizon, AT&T, or T-Mobile, we recommend visiting Us at SpeedTalkMobile.com—you might find a price that's too good to pass up.
Are you wondering if unlimited data is right for you? See our Unlimited Kids Phone Plans.
What does "unlimited data" mean for my kid?
Unlimited data means that you will never be cut off from using your phone to access the internet during the course of your phone plan's cycle (typically every month)—you can use as much as you want, whenever you want, with no fees for exceeding a set data limit. Some unlimited plans may have limits on how much high-speed data you can use, but you'll still be able to use your phone's data after you reach that limit. Your speeds will simply slow until the next cycle starts.
How do I check my child's data usage?
The SpeedTalk Mobile app or your online account are the most convenient ways to monitor your phone's data usage. To view your current data totals, log in to your account profile. You can also frequently view your data usage from the Settings menu on your phone. On an Android, go to Settings > Connections > Data Usage to see how much data you've used. iPhone users can view their data consumption by going to Settings > Cellular > Cellular Data Usage.