The wireless service company assures patrons of quality mobile phone plans without activation fees, transfer fees, change-of-plan fees or contracts 
The COVID-19 pandemic radically broadened the use of the internet in different sectors around the world such as supporting remote work, laying the sturdy foundation of the digital marketplace, maintaining relationships through prominent social networking platforms, promoting online streaming and entertainment options, and building intercontinental digital learning spaces to mention a few. The rapid rise in internet usage revealed the paramount need for wireless plan service providers to deliver fast connections suited to the user's needs. Fortunately, the Speedtalk Mobile company offers an array of flexible mobile wireless plans for millions of subscribers.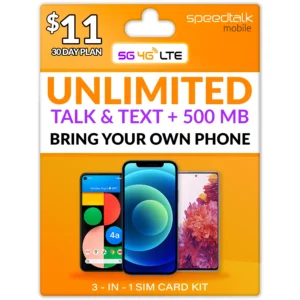 Speedtalk Mobile is a customer-centric company that recognizes that every customer deserves access to reliable and premium wireless services for their Wi-Fi, LTE router, or personal hotspot without breaking the bank. The company's available mobile/cell phone plans are well suited for their customer's income brackets ranging from the pay-as-you-go plan, unlimited, and prepaid phone plan. With Speedtalk Mobile's improved monthly subscription plans, the customer remains in charge of high-quality and budget-friendly wireless plans, starting with just five dollars per month.  
The company is also helping its users remain on top of securing their homes, personal properties, and pets, and even ensuring a safe journey from point A to B with the availability of the Speedtalk Mobile subscription wireless service for GPS, vehicle trackers, and asset tracking devices. A Smartwatch package is also available for users hoping to keep track of their young children or keep a digital record of their health and fitness with the Speedtalk Mobile smartwatch SIM card, equipped with sufficient storage space and top-notch internet connectivity. 
Speedtalk Mobile is poised to increase productivity in employees in remote or physical spaces by providing reliable internet connection to share media, reach deadlines in good time and achieve their set goals. In addition, Speedtalk Mobile caters to the cell phone plans for kids, seniors, and families that are customizable and easy to manage, with no hidden charges or fees while upgrading or downgrading their plans.
Subscribers moving to Speedtalk can do so with no additional charges. Furthermore, the company provides new subscribers with a 5G and 4G LTE data triple-cut SIM card, compatible with Android and iOS devices as the card can be punched from the standard size to the nano size, to snugly fit any device. The detailed and easy steps on the SIM pack make for simple activation and installation that qualifies customers to enjoy the numerous advantages of Speedtalk Mobile's moving train.  
For more information, please visit https://speedtalkmobile.com 
About Speedtalk Mobile 
Speedtalk Mobile is becoming America's fastest-growing wireless service provider, offering service plans for nearly all wireless devices with prices starting from as low as $5 per month.  Speedtalk Mobile's online platform is simple and easy to join, offering hassle-free contacts and speedy service month after month to their diverse customer base.