Fast-growing provider of innovative wireless services, SpeedTalk Mobile, announces the launch of wireless plans for smart wearable devices
SpeedTalk is fast becoming one of the most sought-after wireless service providers in the United States and the company's claim of delivering the best experience to clients has again been substantiated following the launch of smartwatch wireless plans for customers. The company currently ranks as one of the fastest growing brands in the telecoms industry, a phenomenon attributed to the unique combination of quality and relative affordability to deliver a unique experience to different categories of clients nationwide.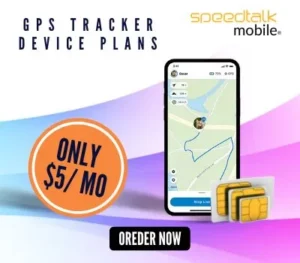 Watches and other categories of wearables have evolved to become more functional as health and fitness tracking tools. The emergence of smartwatches and their increasing popularity across age groups due to their wide range of benefits have further buttressed this claim. However, such devices often require a lot of storage space to enjoy their features to the fullest, which is where the smartwatch sim card plans from SpeedTalk are helpful.
SpeedTalk is offering the best of both worlds to clients by ensuring they stay connected and keep track of their wellbeing without breaking the bank. The solution enables smartwatch users to enjoy functions such as texts, calls, and tracking capabilities of the device, compatible with all unlocked 5G/4G, 3G/2G, LTE GSM smartwatches such as kids GPS tracker watches, phone watches for kids, adult smartwatches, and senior SOS wristband. In addition to providing additional storage, the renewable prepaid plans for smartwatches also enable access to the internet, allowing users to stay in touch even on social media without going about with their mobile phones.
In line with the goal of ensuring people stay connected, the no contract, flexible plan does not require credit checks and includes a free 3-in-1 SIM card – standard, micro, and nano sizes to fit any smartwatch device, with a 100% money-back guarantee. Customers can also enjoy the SpeedTalk Mobile international roaming service add-on feature to stay connected in over 200 countries.
For further information about the sim card plans and other wireless services provided by SpeedTalk Mobile, visit – https://speedtalkmobile.com/.
About SpeedTalk Mobile
SpeedTalk Mobile is a wireless service provider that aims to deliver affordable, straightforward solutions to clients in different parts of the United States. The company offers service plans for all wireless devices starting as low as just $5 per month, with customizable packages for kids, seniors, and families.
Contact
SpeedTalk Mobile®
United States
(866) 701-5577